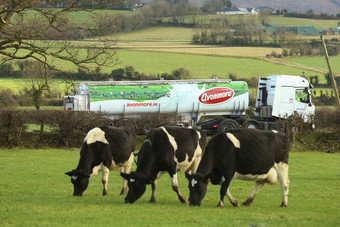 Glanbia, the largest dairy processor in Ireland, has developed a unique approach to addressing milk price volatility at farm, processor and dairy ingredient buyer level: the Glanbia Price Volatility Schemes. The schemes, which extend over one, three and five year periods and include a defined pricing model, offer price predictability for all participants.
In addition the Glanbia MilkFlex Fund, an international first, delivers flexible, competitively priced loans to Glanbia dairy farmers with loan repayments which can vary according to seasonality and movements in milk price.
Finally, Glanbia Advance Payment is a voluntary scheme that offers interest-free cash flow support to member farmers in periods when milk and grain prices are weak. The interest-free repayments will be triggered when markets recover above specific levels. This allows farmers to protect their cash flow at the lower end of the milk and grain price cycle.