AB InBev, the world's leading brewer, has launched a new pilot in Europe that will use blockchain technology to give full transparency and traceability in its supply chain of barley, from consumer back to the farm. This end-to-end initiative means beer drinkers will be able to scan a QR code on pack and learn about where the barley in their beer is grown.
Already one of the largest buyers of barley globally for brands like Budweiser, Stella Artois, Corona, Beck's and Leffe, AB InBev works directly with 60% of its farming base – around 20,000 growers across 13 countries and five continents – supporting with agronomy skills, tools and research to improve productivity, profitability and sustainability.
However, this pilot is designed for the remaining 40% of its indirect farmers, many of whom are located in European countries such as France, Germany and the UK.
As supply chain transparency becomes increasingly important for ensuring the quality and security of raw ingredients and the efficient use of natural resources, this pilot will begin by linking barley farmers in the North East of France with one malthouse in Antwerp, Belgium and the Stella Artois brewery in Leuven, Belgium, using one, scalable, blockchain-based technology platform. Through this platform, AB InBev will begin to aggregate and benchmark data to help indirect farmers improve their yields and environmental footprint.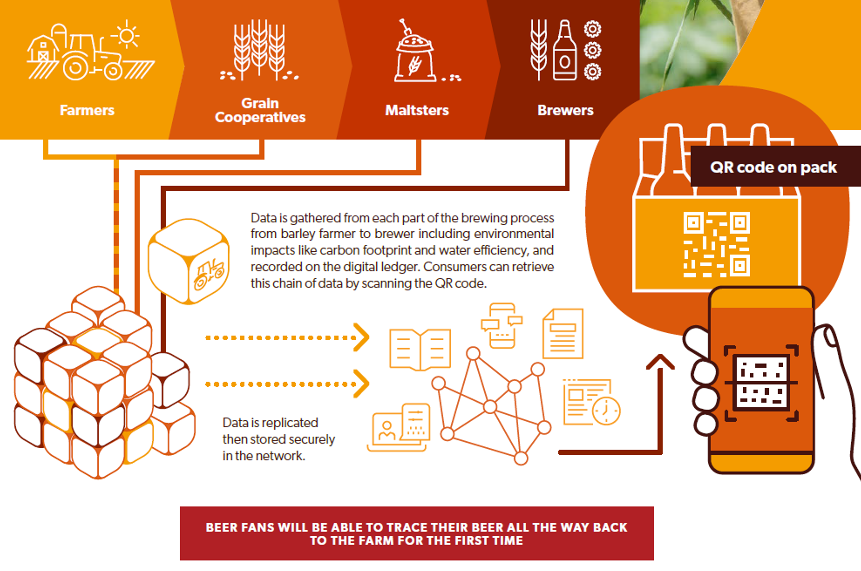 This blockchain platform has been deployed by SettleMint, a Blockchain-Platform-as-a-Service tech firm headquartered in AB InBev's home city of Leuven. The companies were introduced through a European Innovation Council (EIC) initiative by the European Commission to match EIC-funded scale-ups with large corporates. Fujitsu, which will be supporting the initiative and SettleMint have deep experience in the development and deployment of track-and-trace technology solutions for complex supply chains.
At scale, the data collected will not only provide a fully end-to-end view of the supply chain to consumers, but can help to advance agricultural development: improving growers' yields and water and energy efficiency, as well as soil health.
This pilot means that from next year, scanning a QR code on Leffe packs in France will bring up a view of the farm where the barley in their beer was grown, reaped and malted, giving them more transparency of the provenance of their beer than ever before.
More than 20 million metric tons of malting barley are grown globally each year; the majority of which is used for brewing beer. As part of its focus on Smart Agriculture, AB InBev works closely with its farming communities to grow the natural ingredients for its beers, using research, knowledge, technology and financing to transform agriculture at scale, and was recently recognized in Fortune Magazine's Change the World 2020 ranking for this work.
As stated in its 2025 Sustainability Goals, AB InBev has pledged that by 2025, 100% of its direct farmers will be skilled, connected and financially empowered. Using a specially developed framework to measure these metrics, this progress is tracked annually. As of the end of 2019, 50% of these direct farmers have access to good varieties and technical training (skilled), 45% have improved insights and information (connected), and 35% have the ability to invest in and grow their business for the long term (financially empowered).