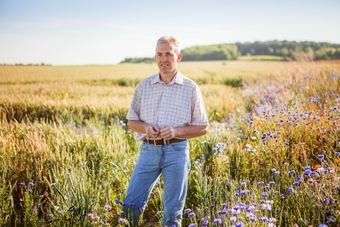 Harmony is Mondelēz International's sustainable wheat programme which was created in France in 2008 and is the first of its kind globally. The programme has grown from 68 partner farmers to over 2,000 across Europe. These farmers are close to Mondelēz factories and combined to sow 42,000 hectares of Harmony wheat and 1,300 hectares of wild flower cover last year.
The farmers follow a Charter of good agricultural practices beneficial for biodiversity, water, soil and other resources. In 2016, 935 hectares of flower strips were planted, over 21 million bees and 27 butterfly species were observed and a 20% less pesticide use was achieved in Harmony fields.
Besides guaranteeing consumers the selection of the best wheat varieties, Harmony rewards farmers for complying with the Charter.