At The Coca-Cola Company, we have made the decisive shift to become a total beverage company. We are giving people around the world more of the drinks they want and how they want them – whether that means less sugar, more natural sources, or organic. Because we agree that people should not eat or drink too much sugar, we are taking specific, meaningful actions, including reducing sugar in our drinks to help people everywhere more easily control added sugar. While sugar in moderation is fine, we agree that too much of it isn't good for anyone.
We support the current recommendation by the World Health Organization that people should limit their intake of added sugar to no more than 10% of their total energy/calorie consumption.
We started on a journey to reduce the amount of sugar in our beverages in Europe years ago, through a mix of different tools: reformulation, innovation, smaller portion sizes and promoting low-and no-calorie drinks.
In Europe, since 2010, we introduced 240 new low and zero sugar and reformulated more than 150 beverages to low or zero sugar. Today, 34% of our total volume comprises low or zero sugar drinks.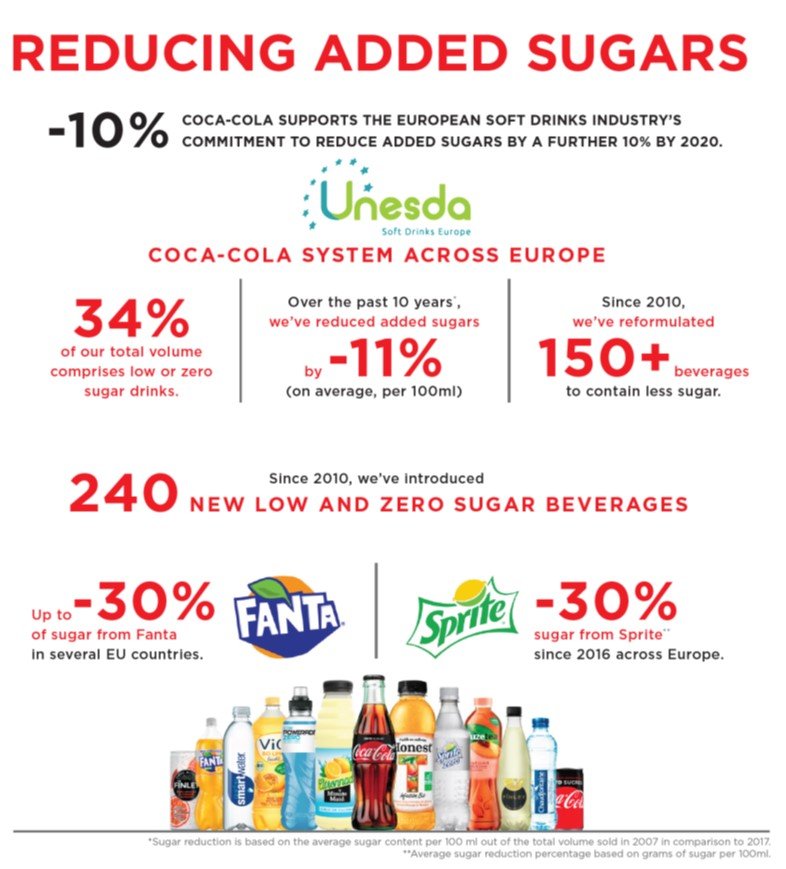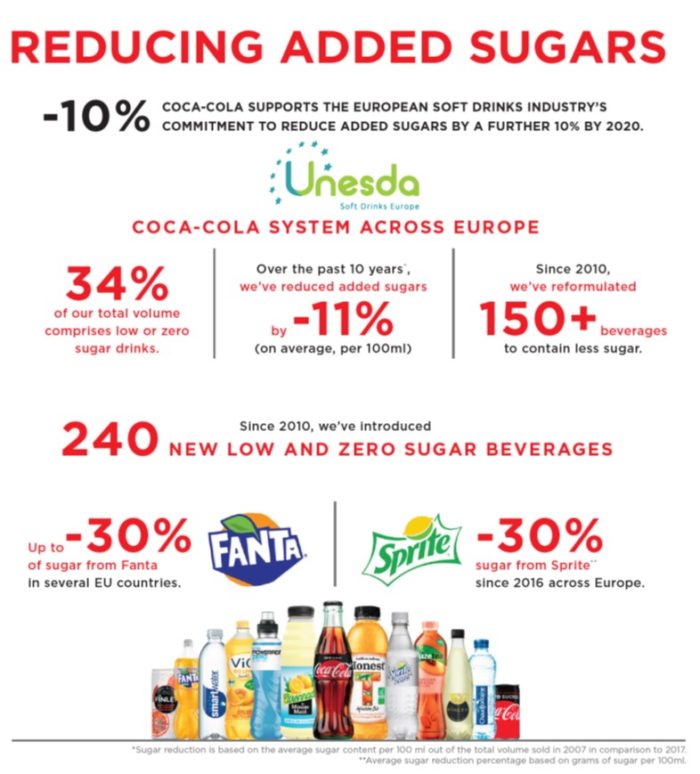 Coca-Cola Zero Sugar Innovation. We also innovate with our core products. In 2017, our reformulated Coca-Cola Zero Sugar™ launched in 20 markets around the world, with a great-tasting new recipe very well accepted by consumers.
We've shifted our marketing investments toward raising higher consumer awareness about our low and zero sugar drinks. For example, in Europe:
• 75% of our Coca-Cola brand marketing spend showcases Coca-Cola Zero Sugar/ Coca-Cola Light
• In 2018, 90% of Coca-Cola drinks distributed through product sampling were Coca-Cola Zero Sugar.


More information about Coca-Cola's actions toward helping to create healthier food environments in Europe can be found here.