The KeepWell Mark was launched by Food Drink Industry Ireland (FDI) on September 20 2017. The Irish Minister for Health, Simon Harris attended to officially launch the initiative. This forms part of the 'workplace intervention' pillar of the FDI Health Initiative, a body of work undertaken by FDI alongside some of Ireland's leading food and drink companies in demonstrating the positive steps industry are taking in the battle against obesity.
The KeepWell Mark is an evidence-based accreditation that recognises and celebrates organisations that put the wellbeing of employees at the forefront of company policy. With these standards of excellence and the roll out of this initiative across participating organisations, Ibec's ambition is to make Ireland's workplace a safer and healthier one.
The KeepWell Mark in a Nutshell:
• Auditing and benchmarking against a set of recognised standards across eight critical areas affecting your business
• On-site assessment and verification by independent assessors
• Toolkits and guides to further build successful wellness programme
• A clear roadmap that will set your organisation on a path to excellence across all areas of employee health and wellbeing
• National recognition and certification
5 companies have successfully achieved the mark since launch, and over 20 other organisations have signed up and are at various stages in the accreditation process.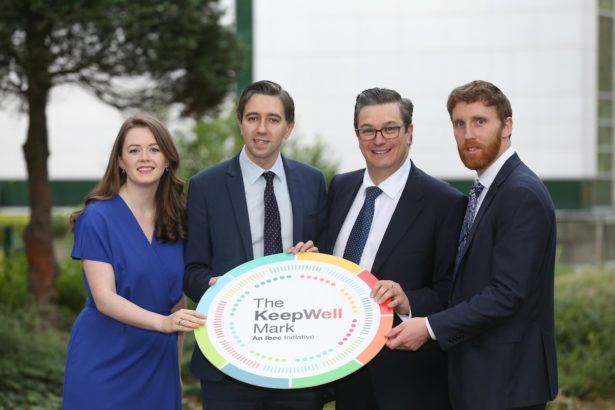 Sophie Moran, Executive with Food Drink Ireland, Minister for Health Simon Harris, Kevin McPartlan, Director for Prepared Consumer Foods in Ibec and Dermot Doherty, Project Manager for the Food Drink Ireland Health Initiative and the launch of The KeepWell Mark.